A while back I saw that Dr. Heather Lynn added a section to her website relating to the group that she is starting. It is called STAR for short, but stands for the Society for Truth in Archaeological Research. I had looked and the information that she had posted about the group and thought that it would be something that I am interested in doing in the future. I was unaware that she was going to be doing a launch fundraiser until today, and thought that I would contribute to the cause. I can get behind someone who believes in being honest, and helping us to be informed about the truth that exists in our world, and exposing the cover-ups and lies at the same time. That's my style! I like it, a lot!
The launch drive is accepting donations of any size, and in return you get [Founding Member Status] a laundry list in return for your contribution.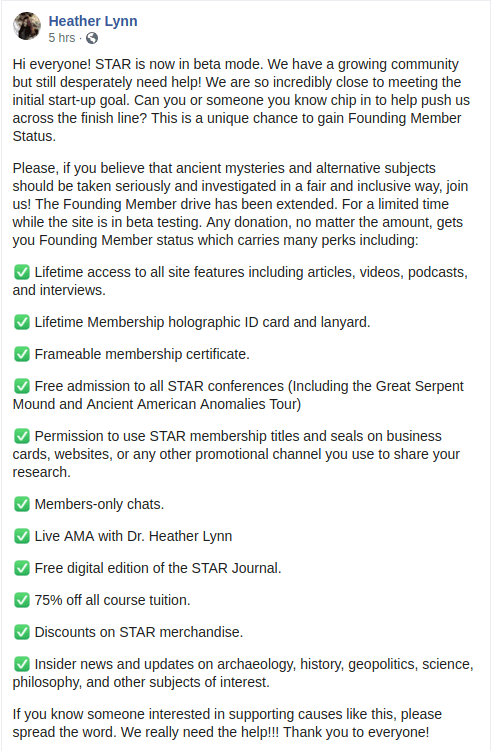 There is more information about STAR on the donation page, and you can also get more information about this newly forming group from her website. If the truth is what you are about, I recommend that you check the information out and consider donating to this launch. As with anything in life; you get out of it what you put into it, and I can assure you that becoming more active in learning the truth for yourself will improve your overall quality of life. We aren't born into this world to be deceived and lied to, but living a life as full of truth as you can will make you feel better about everything you do in your day to day life.